Sawyer's Landing, Mount Pleasant, SC
By Annie Patrick
The plot of land has been an icon in Mount Pleasant since well before I moved here. Thousands have passed it on the way to the beach, and many have stopped – as I have – to pick up some fresh shrimp on the way home to top off a perfect day in the sun.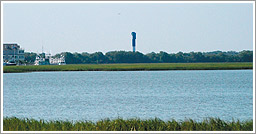 As the beautiful new homes of Sawyer's Landing rise at the edge of the marsh, the old Simmons Seafood store will become a distant memory. In its place, 17 new town homes will welcome families and make good on the promise of spectacular views and gentle ocean breezes. There could not be a better location–just three minutes to sleepy Sullivan's Island and 15 minutes to downtown Charleston. Within sight are the Sullivan's Island lighthouse–the brightest on the East Coast–and the Ben Sawyer Bridge, a swing bridge that will soon be renovated but retain its old-fashioned look.
Sawyer's Landing itself is named for Ben Sawyer, who worked diligently for the Highway Department after a career in the Army. Under his tenure as chief commissioner, from 1925 until 1940, the number of highway miles in South Carolina doubled. He was a man who paid attention to every detail and took pride in a job well done.
As such, he'd be pleased to see his namesake community, and he'd be prouder still of the quality of the Sawyer's Landing town homes. A project of Turtle Bay Development, the homes in this community will be among the finest in Mount Pleasant. Features include 10-foot ceilings in all great rooms and the elegance of hardwood floors throughout the living areas. Bedrooms will offer plush, high-grade carpet, and the master bedrooms will include 9-foot ceilings for a feeling of spaciousness.
All appointments will be top-of-the-line, including cabinetry, stainless steel appliances and granite counter tops. Master bath rooms will be luxurious, with whirlpool tubs, separate showers, granite counter tops and ceiling fans in the master bath. Private garages, large porches, elevators and gas fireplaces are among the many extras that set this community apart.
Just 17 homes will be available, 14 with three bedrooms and from two-and-a-half to three-and-a-half baths and three with four bedrooms and four baths. Fifteen town homes feature inverted floor plans to take maximum advantage of the magnificent views. All of the townhomes feature the finest quality flooring, oil rubbed bronze fixtures, high ceilings, optional elevators, large porches, gourmet kitchens with granite countertops and stainless steel appliances. Master baths with granite tops and seperate showers. Prices start at $699,000.
Simmons Seafood may be gone but, in its place, a wonderful new neighborhood where families can create their own memories will emerge.