Palmetto Hall at Dunes West, Mount Pleasant, South Carolina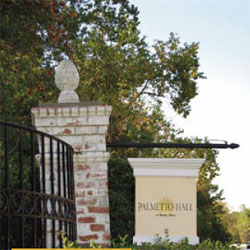 Nestled just outside the gates of Dunes West is Palmetto Hall, a family oriented enclave that offers affordable homes and the rare opportunity to purchase the amenities package at the exclusive neighboring community of Dunes West. With a one-time initiation fee and annual dues, Palmetto Hall homeowners can enjoy the beautiful new clubhouse, fitness center, swimming pool, tennis facilities and community boat ramp.
Palmetto Hall is located in the growing town of Mount Pleasant, which has become a destination in its own right and is just a bridge length away from historic Charleston, one of America's most charming cities. Mount Pleasant's bustling business community gives residents the opportunity to work and shop right in their own back yard.
Just off of Highway 41, with easy access to Highway 17, Palmetto Hall satisfies home-buyers who want to reside in the country but enjoy the convenience of city living. Palmetto Hall is within short driving distance of Charleston International Airport, many local beaches and world-class resorts, historic Charleston, signature golf courses, parks and recreation areas. The community is served by Laurel Hill Primary School, Pinckney Elementary School, Cario Middle School and Wando High School. Nationally ranked health care facilities are nearby, including the Medical University of South Carolina and Roper-St. Francis Healthcare and the VA Hospital.
The white-fenced-lined entrance that leads to Palmetto Hall, Cypress Point and Dunes West is the first indication that the developer of these properties is dedicated to creating quality neighborhoods that blend seamlessly with the coastal lifestyle.
The 233 dwellings tucked into Palmetto Hall are home to first-time home-buyers, young families, professionals, empty nesters and retirees. Community bylaws ensure that properties are maintained and that the common areas are well-groomed. Scenic ponds attract a variety of birds and wildlife.
This fine community sells itself...