Coastal Community - Daniel Island, South Carolina
If you could create the perfect place to live, perhaps you'd choose an island conveniently located near the mainland yet just far enough from the rest of civilization to feel a million miles away. You'd carefully plan a downtown area complete with shops, restaurants, schools, churches and affordable apartments and condominiums. You'd surround this with beautiful, tree-lined neighborhoods with a modern take on Charleston architecture in a variety of price ranges. And you'd add a couple of golf courses.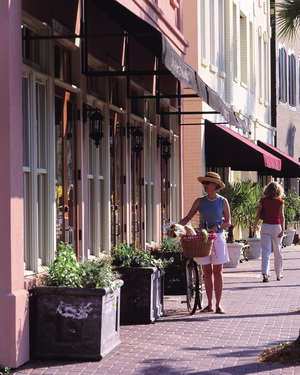 You'd call this magical place Daniel Island. The earliest residents–the Etiwan Indians and, later, English settlers–farmed this fertile island. Its most notable owners were the Guggenheim family, which purchased the island in 1947 as a hunting retreat and cattle farm. In 1997, the island was sold to the Daniel Island Company to be developed in accordance with a master plan created by the Guggenheim Foundation.
It appears that the developers have lived up to the charge of building a community that offers the best of everything to those who live there. Though homes are built with the most modern conveniences, the feel of the neighborhoods is strictly old-fashioned. It is the kind of place where it is easier to leave the car parked and head for a hike on one of the many trails throughout the island or take the kids fishing in a nearby creek. On your way, you're likely to pass friendly folks sitting on their porches enjoying the pleasant weather.
But unlike other idyllic communities, Daniel Island offers virtually everything residents need just down the road. Bishop England high School and a new public elementary and middle school mean kids go to school right where they live. Shops and business offices are centrally located and include just about everything you might need. There is no mall, but, if you really need to visit one, there are several within minutes.
Many of the neighborhoods on Daniel Island are upscale, especially those inside Daniel Island Park, but the developers also included more affordable housing options for first -time and younger buyers by building condominiums near the business district.
And it doesn't matter whether you live in a condo or the most expensive home on the island because the benefits of the Daniel Island lifestyle are available to all. Not only are there parks and nature trails, but the island boasts two golf courses and tennis facilities. Soccer is also a big deal in this island town, as are the many special events that take place at Blackbaud Stadium and the Family Circle Tennis Center.
Yes, if you could build a perfect town, it would be Daniel Island.